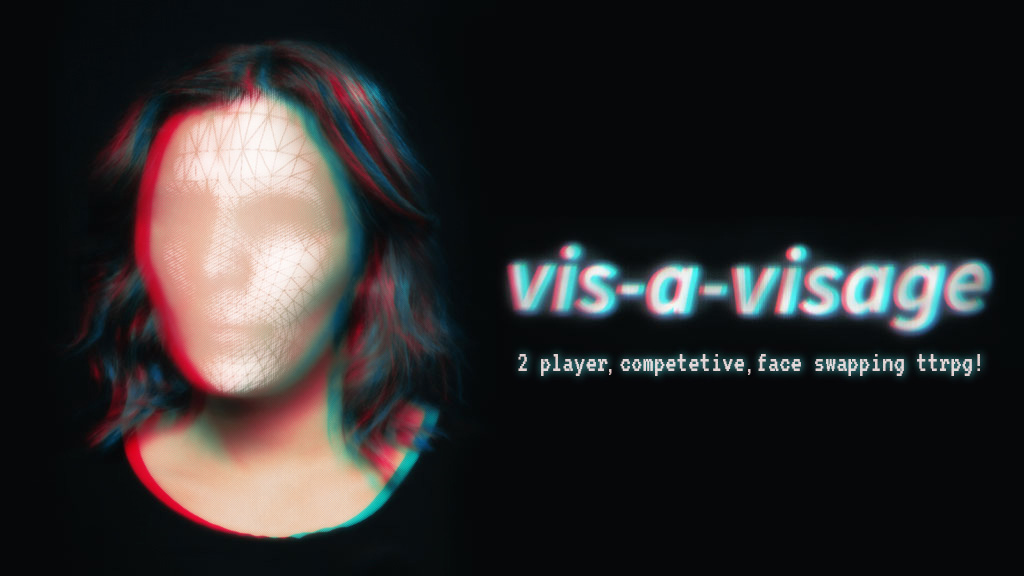 Vis-a-visage
Vis-a-visage is a narrative combat TTRPG for 2 players inspired by cinematic rivalries. Players create characters in secret, their goals centered around each other's failure and play starts when they wake after a strange surgical procedure that has swapped their faces! Now alone and unrecognizable to their networks and loved ones, they must battle forward towards their goals, using unfamiliar resources and strange new friends.


The central mechanic in vis-a-visage is the interplay between the character sheet and the dice pools. The character sheet functions as a list of usable resources that players can invoke to access more dice for their pools. Character creation in vis-a-visage is unique in that it allows players to build the resources (in the form of narrative prompts) that their opponents will be playing with. Players then have to craft narratives around the use of these tools and networks that were dictated by their opponents. The dice pool mechanic pits players against each other in alternating turns as Instigators and Deterrents - Instigators attempting to progress towards their goals and Deterrents trying to thwart these attempts, occasionally turning the tides in their favour along the way. The game uses 2 clocks to track character goals and 1 to track the condition of the swapped faces. When a player has completed their goal, the final round of play begins, answering the most important question of vis-a-visage - will you get your face back?!
2 Players - GMless - 1-3 Hours - zero-prep
Included are rules for adapting play to online messaging platforms like twitter! It's a hoot!


Purchase
In order to download this game you must purchase it at or above the minimum price of $8 USD. You will get access to the following files:
CharacterSheetBottom.pdf
642 kB
CharacterSheetTop.pdf
439 kB
Exclusive content
Support this game at or above a special price point to receive something exclusive.
Community copies
Grab one on me if money is hard!