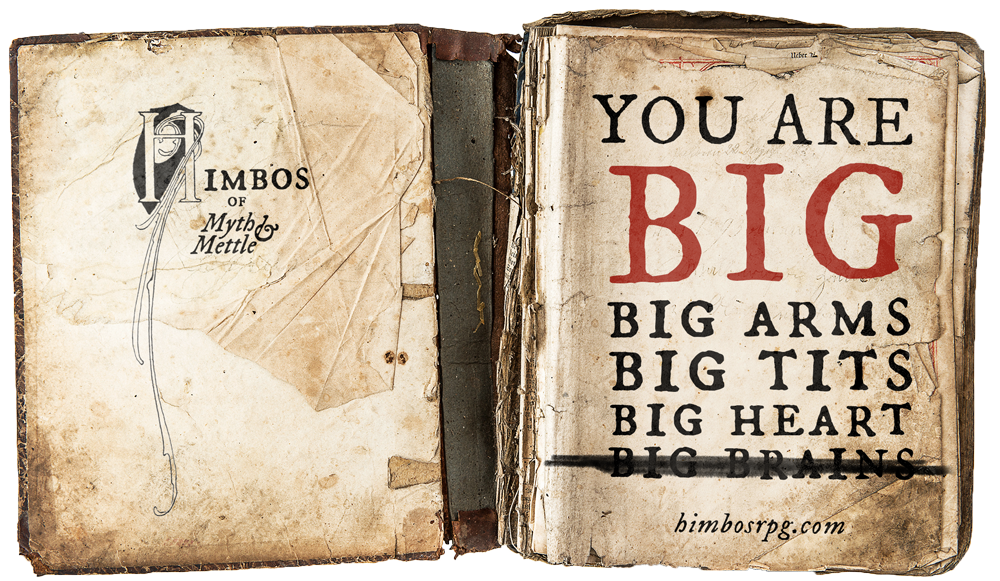 Himbos of Myth & Mettle
You are big. Big arms, big tits, big thighs, big brai- you're big where it matters. In addition to a heaving, throbbing body, glistening lightly with a thin sheen of pleasantly fragrant perspirant, you have one singular unifying trait - come hell or high water, you are going to help.
2-5 players - GMed - 2-3 Hours per session - digital or physical

Himbos of Myth & Mettle is a high fantasy, high camp role playing game of epic proportions (of body), for 2-5 players, one of whom will act as Game Guide. The rules center around a simple roll under mechanic and prioritize narrative flair and cinematic descriptions. Himbos is inspired by many classic fantasy properties (and could be considered OSR adjacent) , but leans towards a more garish, salacious and queer (gay or odd, pick your fighter) style of play. It is designed with comedy and flamboyance in mind, but is not without it deeper and darker touches. It's definitely *not* grimdark, but there will probably be blood. Think classic fantasy pulp in style, but contemporary sensibilities, modern rules-lite mechanics, and a player philosophy centered in helping, kindness and being fucking hot.

Tonal touch points: Discworld, Xena, animated Hercules.
Some highlights of Himbos of M&M:
Simple roll under core mechanic
Modular + creative spellcasting rules for crafting *any* magical effect thinkable
Easily compatible with most OSR and tradition dungeons + adventures
Full lifepath system for creating deep and comedic character backstories
Skills + gear designed to be expanded on the fly for added player creativity
Hot, dripping, sweaty flavour everywhere!
Editing by Aaron King
Art by Mary Verhoeven (Sob Comix) & Emma James
Amazing Himbos 2 Shot crossover event with TPKRoleplay and PlusOneExp:
Part 1:
Part 2:

Himbos is licensed under a Creative Commons Attribution 4.0 International License.
Purchase
In order to download this game you must purchase it at or above the minimum price of $10 USD. You will get access to the following files:
Himbos Of Myth & Mettle Single Pages
65 MB
Himbos Of Myth & Mettle Spreads
67 MB
Exclusive content
Support this game at or above a special price point to receive something exclusive.
Community Copies
It's a game about kindness for eff's sake, take a copy!

Download demo
Comments
Log in with itch.io to leave a comment.
Heard about this via the Gauntlet Podcast, came and bought that same day. No regrets, this looks amazing!
Is it possible to upgrade my pledge to the HC edition? I want to say I meant to buy the HC but apparently didn't.
thanks for asking! I'm gonna put up a discount code for everyone later today so upgrades will be possible!